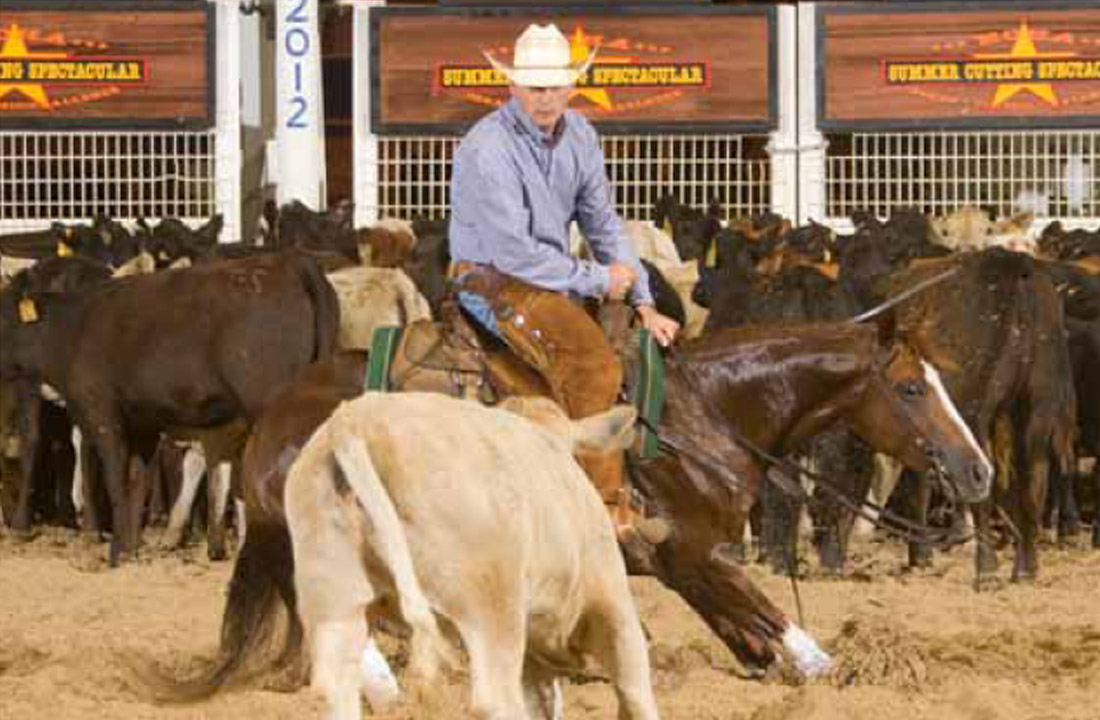 Equi-Stat Non-Pro Rider Award Winner Chad Bushaw
Heading into December's National Cutting Horse Association (NCHA) Futurity finals in Fort Worth, Texas, Chad Bushaw ranked just behind cutting's all-time leading Non-Pro earner, Mary Ann Rapp, and just ahead of Dustin Adams, second on the all-time list, with one show to go in their race to finish as 2012's top-earning rider.
Not too surprisingly, the year's last and biggest event decided another tight three-way race between the Non-Pro division's dominant trio. Thanks to seventh and 17th-place finishes at the 2012 NCHA Futurity Non-Pro finals aboard two mares, Pippis Longstocking (Dual Smart Rey x Hyperlena x Smart Little Lena) and Lady Writer (One Time Pepto x Cats Ruby x High Brow Cat), Bushaw secured his third Equi-Stat Non-Pro Award since 2002. He topped the Non-Pro division this time with $286,087 earned during the 2012 season.
"I didn't really think about it much, but the [NCHA] Futurity is always my favorite show of the year," said Bushaw, who won the 2001 NCHA Futurity Non-Pro aboard Jerryoes (Smart Little Jerry x Turtle Pie x Son Ofa Doc). "It is the ultimate evaluation of our program."
Bushaw's 2008 gelding Bet On A Cat (High Brow Cat x Bet On Houston x Peptoboonsmal), bred by Niangua River Ranch Land & Cattle Co., Eldridge, Mo., topped his owner's list of highest money-earning horses for 2012. The duo garnered $119,681 throughout the year, including an NCHA Summer Spectacular Derby Non-Pro Championship. Bet On A Cat finished third in the race for 2012 NCHA Non-Pro Horse of the Year and also competed with Tom Dvorak in Open classes.
Rapp, Weatherford, Texas, cutting's only $4 million-earning Non-Pro rider, finished a close second with $283,145, while Adams, Dublin, Texas, placed third with $268,876.
A West Coast native and longtime Weatherford, Texas, resident, Bushaw is also cutting's No. 3 all-time leading Non-Pro rider, with $2,854,854 earned heading into 2013. Starting in 2001, Bushaw topped $100,000 as a cutter 12 years in a row, and topped $200,000 five times.
He credits a third-grade field trip to Dan Lufkin's original Oxbow Ranch in Prairie, Ore., with sparking his interest in cutting at an early age.
"I just really knew I wanted to do it," Bushaw said.
Bushaw grew up in eastern Oregon where his parents, Grant and Michelle, taught school to many children who grew up on ranches. He often helped neighbors rope and brand cattle. Since his late teens, he's enjoyed all aspects of the cutting business, from riding and training to eventually owning and raising horses. His Crown Ranch now includes about 1,000 acres, approximately 100 momma cows and 30 to 40 horses of various ages, with a goal of raising 10 good foals each year.
"Now, we are getting third generations of horses we competed with 10 or 12 years ago," Bushaw said. "That's probably the most absolute special thing about it."
After quite a run during his late 20s and through his 30s, Bushaw hasn't set specific goals as he approaches his 40s other than to keep working and playing hard. He stressed that great horses, and people, have contributed to his success.
"Jared Klein is the main guy who helps me at home and on the road, and he does an excellent job of keeping things together," Bushaw said. "I also have a great vet in Jeff Foland, a super shoer in Ray Taylor and a top-shelf cattle supplier in Russ De Cordova."
Bushaw's parents, his brother, Casey, and his sister, Courtney, also live nearby, with his wife, Amie's, parents and siblings not that far away in Groesbeck, Texas. Bushaw and Amie have three sons: Charles Russell, 8; Will James, 6; and Wesley Jensen, who will turn 2 this spring.
As he closes in on $3 million in cutting earnings while approaching his 40th birthday on May 26, Bushaw hopes to keep on earning and learning while he goes.
"Winning money doesn't necessarily equate to success, but it's a good barometer to let you know you are doing something right," said Bushaw, a vice president at financial firm Morgan Stanley, where he has worked for 19 years. He added that he won't talk his sons into riding horses, but he will support them in whatever they want to do.
"They'll have every opportunity I can give them, just like my parents gave to me."
Quarter Horse News