Crown Ranch is a family-owned cutting horse operation.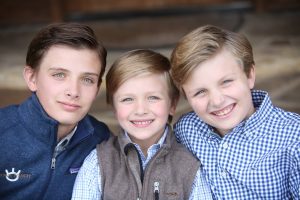 MISSION
Breeding, Training, & Competing
Crown Ranch, a Weatherford, Texas, cutting horse facility owned by Chad and Amie Bushaw, is named after a North Dakota ranch started during the 1890s by Chad's great great grandfather, the late Minor Williams.
Chad and his wife have three sons, Charles Russell, Will James, and Wesley Jensen. Chad's ancestors started the first Crown Ranch as a cattle ranch 111 years ago in White Earth, N.D. "They started the ranch with 25 registered Angus cattle and they registered the brand in 1909," said Chad, who eventually christened his ranch with the name.
He often rides saddles built from a stamp dating to the original Crown Ranch, and he also owns several items actually from the original ranch. Joan Jensen, his grandmother and a longtime North Dakota resident born and raised near the original ranch, often told Bushaw stories about ranch life all those years ago. She passed away in January 2010 at age 88.
"The Crown Ranch and everything else, she was a big part of what made all this possible," Bushaw said. "She was always my biggest fan and my biggest supporter. It's real special and real sentimental to keep the Crown Ranch brand alive. I think she ( Jensen) would be proud of what we've done."
Chad Bushaw has immersed himself in all aspects of the cutting horse business over the past 25 years, including breeding, training and competing with horses at many events and with considerable success. The financial consultant and 1994 Texas Christian University graduate has career earnings of over $4 million, was inducted into the NCHA Non Pro Hall of Fame and awarded NCHA Bronze, Silver, & Gold Award.
"Most of the horses we've had success with this year are ones we've raised, out of our mares," Bushaw said. "They're ones that we trained from Day One. It's a rewarding feeling for sure."
People ranging from ranch assistants to co-workers at his office who made it possible for him to hit the cutting trail also deserve a share of the credit, along with good shoers and veterinarians, he said. "A lot of people played a role in any success we've had."