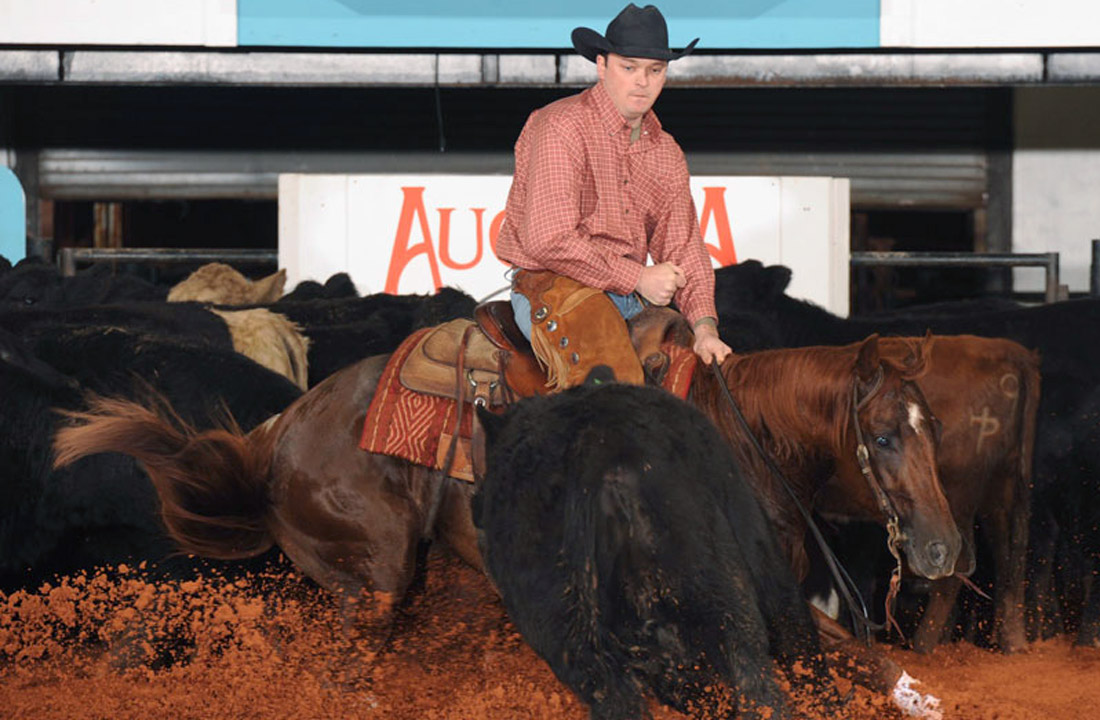 Small Program, Big Success
Texas non-pro Chad Bushaw offers tips for how breeders can realize success – on any budget.
Look at the numbers and one would think Texas non-pro cutter Chad Bushaw has had it all – all along. He's bred winners. He's trained winners. He's shown winners. He's bought and sold winners.
Truth is, Bushaw, and his wife, Amie, operate a small business just like so many others in the business of performance horses. Bushaw began with a single horse while he was earning his college degree and built the program from there, one horse at a time. Chad and Amie's Crown Ranch has owned horses that have won $2.5 million, while horses they've bred have performed to $1.2 million. As a rider, Bushaw has won $2.4 million, and during the 2010 season, he added $275,247 to his total. He was No. 2 on the list of leading Non-Pro riders and No. 9 for all riders/all divisions.
Bushaw, 37, grew up in a small town in Oregon and was introduced to cutting when a school field trip to the Oxbow Ranch – which was located in Prairie City, Ore., at the time – ignited his passion for cutting horses. He cut while in high school and worked his way through college, earning a degree in finance from Texas Christian University in Fort Worth, Texas. Today, Bushaw is a senior vice president at Morgan Stanley Smith Barney in Fort Worth. He breeds, trains and shows his own horses, electing to show at major events and marketing his horses as soon as their limited-age careers are finished. A number of mares he has shown have gone on to be successful producers. Chad and Amie Bushaw have two children, Charles Russell, 7, and Will James, 4, plus they are expecting a third son in May.
Quarter Horse News asked Bushaw about the advice he'd give fellow limited-size breeders looking to raise successful foals – whether that be in the show pen or the sale ring. Here's what he had to say.
If a person is looking to buy a mare to breed, what should be considered?
I might differ from many, but I try to focus first on an individual mare's heart and integrity as a performer, or for a producing mare, that of her offspring of performance age. Most all of the better stallion choices out there have proven themselves as great athletes and performers, so in my program, I have tried to focus on breeding mares that have had a lot of heart in their show careers or in their early training.
I have not placed the highest importance on looks or athletic ability in my program, as most all of my trainer friends ride very athletic and beautiful turnback horses. For me, I have placed a higher importance on an individual mare's mind and willingness to take training.
Since so many good broodmares do not ever make the show arena, I recommend a potential buyer spend some time networking with reputable horsemen who might have trained or known of the mare in question. This will serve two purposes: one, to get a real good idea of the mare's history and her ability; second, to gauge the perception of the marketplace towards the foals produced out of that mare, which can really affect the economics of your breeding program.
So for me, I focus on heart and integrity first. I believe I can cross these mares of high integrity and try with stallions then who can improve on looks, conformation, and even athletic ability. In my book, it is easy to find pretty horses with great ability and build. But finding those who also have that special ability to try hard and overcome adversity is tough.
What if a person doesn't have a lot of money to buy a high-powered mare? Are there ways to get a good mare at a low price?
I would again spend considerable time networking with a reputable group of horsemen and letting them know what you are looking for. This group might include breeders, owners, trainers, non-professionals and veterinarians. Surround yourself with good people who will share their knowledge and expertise to your advantage. If you have a particular trainer you have a good relationship with, you might ask them to put out some inquiries amongst their peer group to see if there was a mare they know of who somehow slipped through the cracks in someone's training program, yet displayed all the perfect characteristics of a mare that could reproduce champion offspring.
Every year, dozens and dozens of mares who exhibit these quality traits do not ever get the chance to be money-earners. This can be due to injury, due to financial circumstances of the owner or maybe just due to tough luck. In both my horse business and my profession, I am a big believer in networking and surrounding oneself with people who are far more talented and successful than me myself.
My very first broodmare purchase in 1994 was a result of networking with some great horsemen. The year prior to that, I had purchased a project gelding [Handy Shorty Lena] from a friend of one of my mentors, Winston Hansma. Within a year, this horse was really developing into a star performer so I reached out to the person who owned his mother [Docs Handy Ann – Doc Quixote x Annie's Rancher x The Rancher] and negotiated a deal to buy the mare for a very low price, $3,500, as she had not had any offspring who had done much at that time. The first thing I did was breed this mare back to the sire [Shorty Lena] of the gelding I had been riding, and that very first foal she had for me [Shortys Crown] went on to win over six figures and then sold for six figures as a 5-year-old horse. This mare [Docs Handy Ann] went on to produce over $560,000 in money-earners and is now buried on my ranch.
So I can't place enough importance on networking with successful, reputable people in the horse business, as they can be a key source in helping you to find that good mare at a reasonable price.
Is breeding early in the year important – why or why not?
For me, it is not important. I generally don't own too many dedicated broodmares, but rather I rely on breeding my show mares that I really like, while I am campaigning them. This means that I generally am at the mercy of our show schedule and must deal with the opportunities that both the show schedule and Mother Nature give me.
In an ideal world, given that I focus only on aged events, I would prefer to breed all of my mares early to produce early spring babies. This would maximize my odds of having stronger, more physically mature horses to show when they are 3 and 4 years of age.
What does a person need to consider when choosing a stallion?
Every person's situation and goals are different, but I suggest a number of things to focus on when determining which stallion to breed to. For me, I always start by dealing with good people who I think are honest and enjoyable to deal with. I want to breed to a stallion whose owners are going to do everything in their power to promote their horse and hence my foal. This again goes back to my point about surrounding yourself with good, straight-up people.
The horse business can be very expensive, trying and even heartbreaking, so I want to support stallion owners who are going to be on my team, who want to see my foal become successful for whichever goal I choose. Factors that are important to me are promotion and management of a stallion. This includes details such as subscribing to incentive programs like the Breeder's Invitational and NCHA Super Stakes, for example; the breeding farm which the stallion stands at and how reputable they are; how the foals sell in the yearling market; the perception of the trainer community towards the offspring of that stallion, and, of course, the economics involved with not only breeding the horse but also the total expenses that go into getting a live foal.
From a business perspective, I don't ever like to spend more breedingto a stallion than what I can buy a yearling by that same stallion for. In today's economy, this is a tough task but one that I think we all need to pay close attention to. By the time I pay for an embryo transfer for one of my show mares, pay for chute and vet fees to get my mare bred, and then feed that recipient mare for a year and then feed that foal for another year on top of that, I have a lot of expense to overcome before I even account for a stud fee. I compare this to buying a yearling in a sale, where I can pick my color, sex, and conformation and have my vet do a very thorough pre-purchase exam. So I say this not to dissuade people from breeding, but rather to point out the importance of doing your homework and choosing a stallion who will not only complement your mare and produce the performers we all desire, but also to do so in an economically feasible manner.
I have been breeding more mares the past few years than ever before, as the contrarian in me has seen the trend the past few years where most breeders are raising a mere fraction of the numbers of foals they did just a few years back. My hope is that someday very soon it will be much more cost efficient to raise my own foals than it is to buy yearlings, as I think the prices will gradually start to recover to the point that today's breeding fees look relatively inexpensive.
For breeders on a budget, what should they consider when selecting a younger, less expensive stallion?
For breeders of any budget, I think the points made in the earlier answer are still very applicable. Deal with good people and deal with programs who are going to do everything they can to promote both their stallion and your foal. I suggest you focus on getting the right cross for your mare, one that will complement her in every way, within your budget. I think the price of the breeding fee should be the last factor to consider because the stud fee is generally one of the smallest expenses we have in getting a foal into the competition arena. As we all find out in time, it costs the exact same to train a mediocre horse as it does to train a good horse, so keep the big picture goal in mind at all times. If you are going to spend $25,000 to get a horse trained up to the NCHA Futurity for example, we shouldn't be letting a small difference in stud fee be keeping us from breeding to the cross we really want.
While it is important to keep your business plan in mind at all times, always try to breed to the best stallion your budget will allow. Most stallion owners that I deal with are passionate about wanting their horses to be a success. With this in mind, if your ideal stallion is not within your budget, you might even contact the stallion owner and explain your situation and why you think your mare will cross well. If you share the same passion for your mare's offspring as that stallion owner does for his, then oftentimes there can still be some sort of deal worked out that is still mutually beneficial.
Is a person better off to sell a weanling or wait until the foal's a yearling?
I do not think there is an easy blanket answer here. Generally, yearlings are the more common age you see horses offered for sale at, but for me, this is a fairly simple business decision. If I can buy a horse as a weanling for a price significantly less than what I think I might be able to buy that same foal as a yearling for, then I am going to do that. Likewise, if I can sell a horse as a weanling for a price equal to or greater than what I think that foal will bring as a yearling, then I will take the money now and not risk an additional year of owning the foal.
I generally ride everything I raise, so I do not have much experience in selling weanlings or yearlings. I did buy two High Brow Cat weanlings this winter, as I really liked the individuals and I felt they were inexpensive compared to yearlings of comparable quality.
What steps do you suggest a small breeder take for marketing his foals?
For small breeders, I again suggest that you start networking within the industry to develop a plan. If you have foals out of an unproven mare, then I would focus on trying to get them into the hands of some competent programs, whether they be professional trainers, non-professionals or even amateurs.
The key here is to do whatever it takes to get your foals into good hands where they will get a fair chance to be trained. If you simply sell these foals to the highest bidder, you have no control over who buys them and what environment they get placed into. If your dream as a breeder is to produce cutting horses but then you sell your first foals at public auction and they end up being trained as reiners, then you haven't placed your foals into a situation that will help you achieve your goals.
The horse business is a very long-term journey, so you have to think many years down the road when you are marketing your foals. If you can place the first foal your mare produces into a program that has success with the foal, you can create a great market for future brothers and sisters down the road. Like any business venture, there will be some short-term financial sacrifices to get this done, but if it works out, the rewards could be several times over the initial opportunity cost.
Quarter Horse News
By Katie Tims