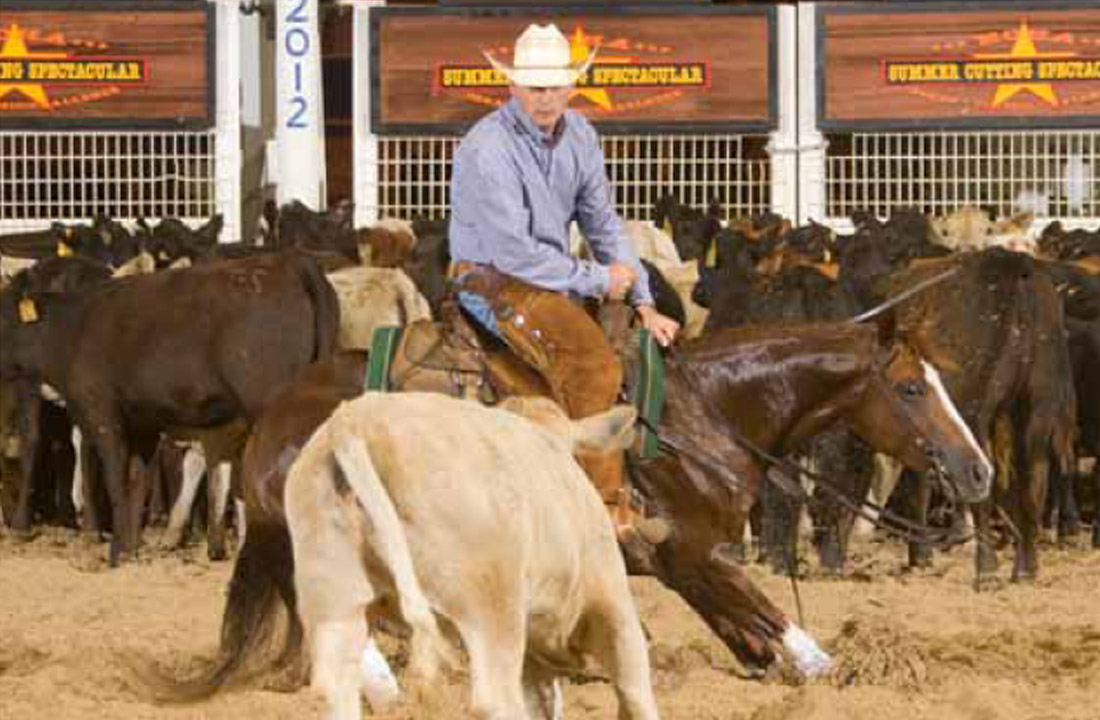 Mocha Cappuccino Hot in Vegas
Posted on
October 16, 2006
If Chad Bushaw hadn't lost a cow on Mocha Cappuccino in the second go-round of the Brazos Bash, he might not have won the South Coast Non-Pro Futurity in Las Vegas, on October 15.
"I was disappointed that I didn't get her shown to her ability and talent," said Bushaw. "So on the Sunday of the Brazos Bash finals, I went ahead and entered the South Coast Futurity. The potential was always there and it finally came together at the right place and time."
Bushaw, who scored 215.5 points for his win, had drawn last to ride in the South Coast Futurity finals, where Elizabeth Queen and Greg Coalson were tied for the lead with 215 points. Queen was riding Dualins First Choice, by SR Instant Choice, winner of the Brazos Bash Open Futurity under Paul Hansma. Coalson was aboard Funtime Foxy, a CD Royal daughter that he purchased in 2005 from her breeder Linda Wolfgang.
Mocha Cappuccino, by Zack T Wood, is the first performer out of Cappuccino And Pasta, the CD Olena daughter that Bushaw rode as reserve champion of the 2002 NCHA Super Stakes Non-Pro Classic. Although now owned by Julie Wrigley, who rode her as 2002 NCHA $50,000 Amateur World Champion, Cappuccino And Pasta gave Bushaw twin embryos in 2003 – Mocha Cappuccino and Frappuccino And Pasta, who Bushaw has entered to ride in the NCHA Futurity.
"The other one wasn't near as solid and ready to show as Mocha Cappuccino," Bushaw noted. "That played a role in my decision to show her (at the South Coast Futurity, instead of the NCHA Futurity). I also have another filly that I thought would be a little better suited for Fort Worth.
"The two (full siblings) don't look alike, they don't act alike, they don't work alike," he added. "The other mare is a lot like her mother – almost like a clone. She's more dynamic and quick about some things. But Mocha Cappuccino is probably the biggest stopping horse that I've ever owned. She has an incredible way of getting into the ground. I think she's going to be a really good mare for me next year."
Bushaw, an investment broker who lives in Weatherford, has earned more than $1.4 million as a leading NCHA non-pro competitor and counts the 2001 NCHA Non-Pro Futurity championship aboard Jerryoes among his many wins.