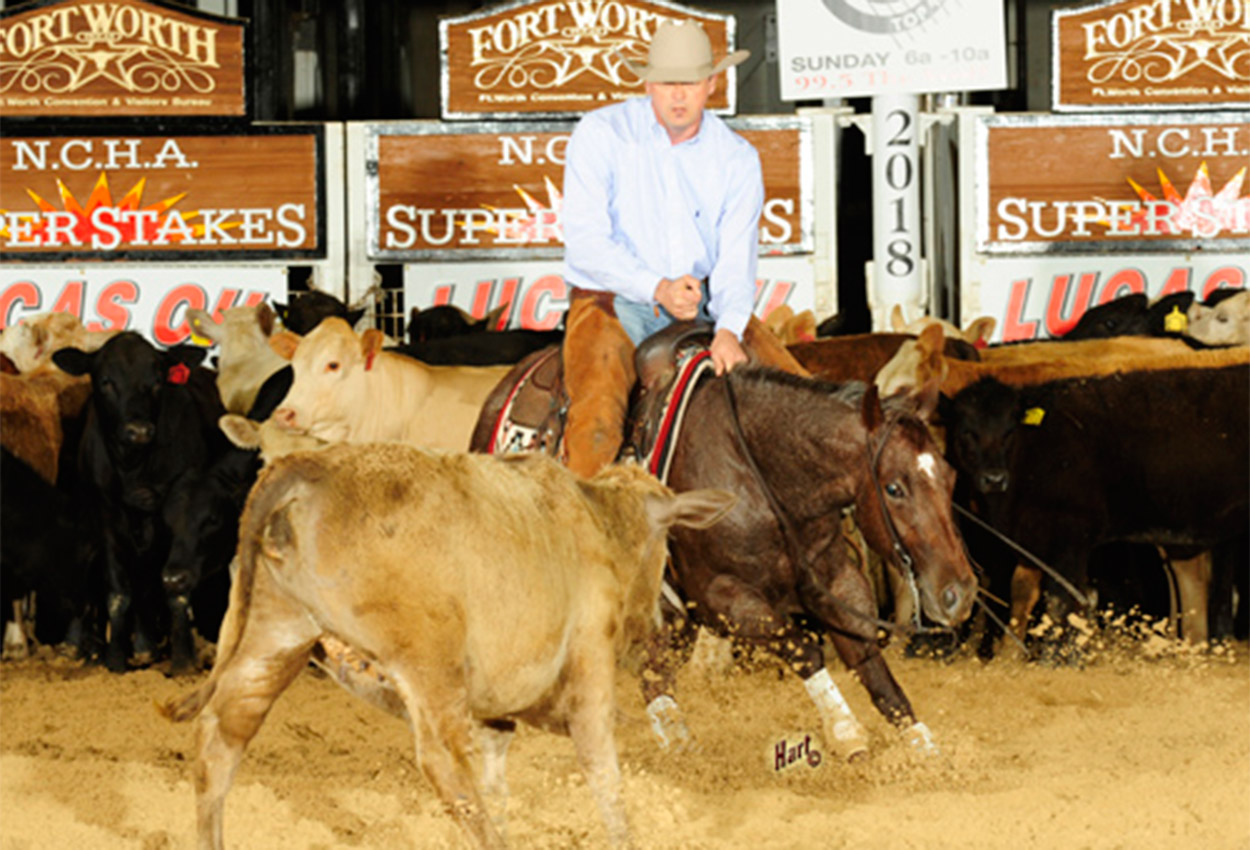 Tic-Tac-Tie in the Super Stakes Non Pro
In a field thick with potential winners, it was no surprise that two rose to the top. "Cutting with the Stars" would have been an apt description of Sunday night's Lucas Oil National Cutting Horse Association (NCHA) Super Stakes Non-Pro finals.
Among the 21 finalists were 2017 NCHA Futurity Non-Pro Champions Chad Bushaw and Bittersweet, as well as Megan Miller and Carolena Reyn, who won the first go-round, composite and Non-Pro semifinals. Both teams scored a 222 to share in a well-earned victory in Fort Worth, Texas, and take home $36,319 each.
Bushaw stepped up first when he rode Bittersweet (out of Miss Sea Rey x Dual Rey) onto the sandy stage of Will Rogers as the eighth to work. With more than $62,000 in earnings to her credit, Bittersweet essentially made her first return to the arena since last December. The dark red roan daughter of Metallic Cat was clearly ready to make her reappearance memorable.
"I felt that we got the three best cows that were in there, my help was great as always and the girl who gets her ready was great, as always, so we just got it done," Bushaw said. "She had kicked herself when I was working her in February trying to get her ready for the spring events and had developed a little bit of cellulitis. But she's been working great this past month and it worked out."
Bushaw was quick to thank his business partner, Alana Chalmers, whose support allows him to take the time he needs to compete, as well as Crystal Hensley, who prepares the horse for competition.
"She is so devoted and is a special girl. We're very lucky to have her on the team. The four guys helping me, they're all close friends and are guys my boys can look up to, good family men.
"My boys and my wife mean the world to me and the fact that I am able to share this sport and this hobby – this passion for horses – with them means everything," he continued. "I used to take it too serious, but now I am just thankful to be here. I take a lot more pride in seeing the boys do well than myself."
Quarter Horse News
by Julie Bryant
View article online