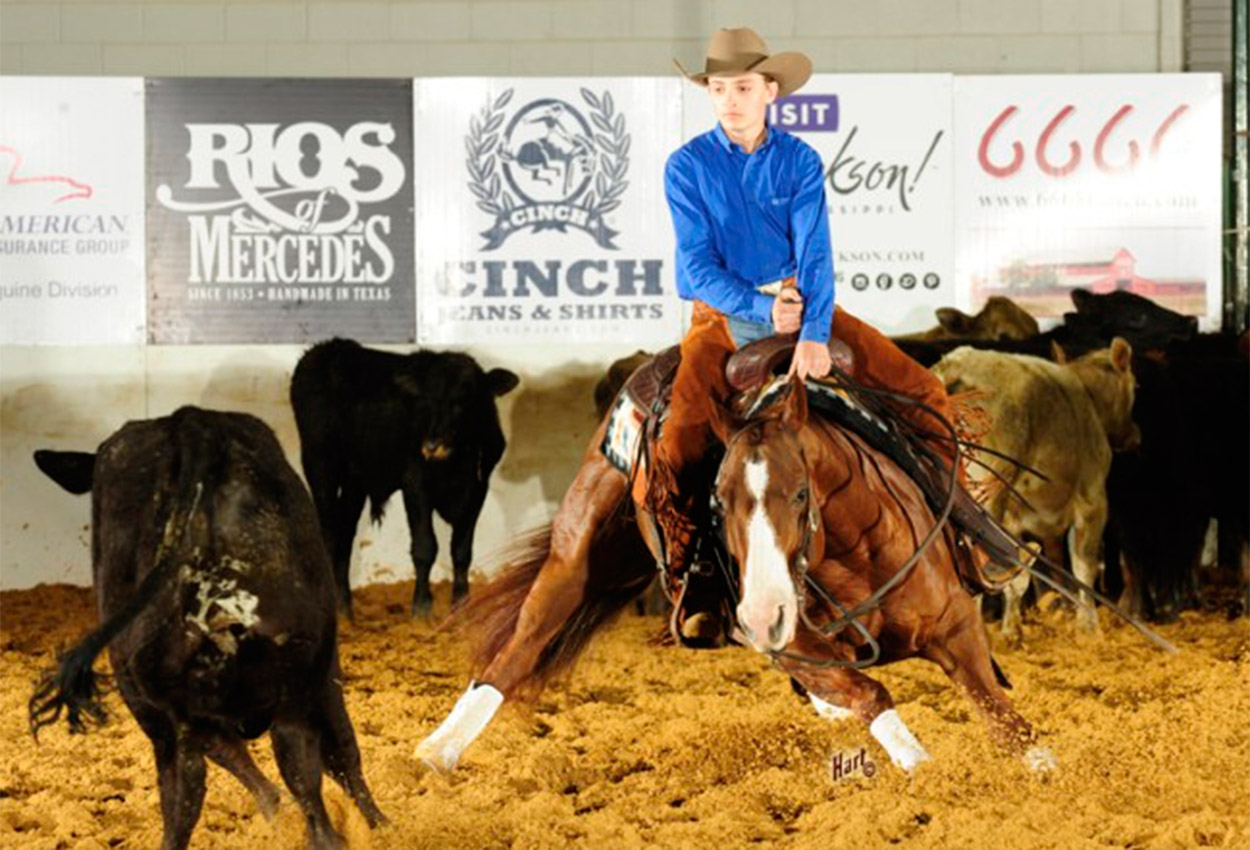 Charles Russell Clinches 2018 NCHA Eastern Nationals $35,000 Non-Pro with Peptotoodie
Charles Russell Bushaw may only be 14, but the young cutter from Weatherford, Texas, who placed second in the Junior Youth, mixed with the adults and marked a 220 on Crown Ranch LP's Peptotoodie to win the $35,000 Non-Pro at the National Cutting Horse Association (NCHA) Eastern Nationals. Bushaw earned $3,717 for his win.
"It was pretty awesome. I knew I had a chance, but I didn't know if I could do it or not," said Bushaw, who was third out in the first of two sets in the finals and relied on his dad, Chad, and friend Tom Dvorak to select his cattle. "They kept showing me which cow to cut. I think [being early in the set] made my run easier because I had more fresh cows."
Peptotoodie, who was bred by Bill Masterson, excels on fast cattle, and Bushaw was able to cut two cows that were his picks. The last one, he cut on shape. The young horseman, who was also helped by Scott Wray and Walt Erwin, thought all three cattle were pretty good. He didn't think his score would hold, but after putting his horse up, he watched the remaining horses take their turn in the pen.
"It was exciting to win. The reason I showed in the 35 [Non-Pro] was that we only wanted to stay one extra day to show, and we'd have had to stay longer if we were going to show in the other classes," said Bushaw, who plans on spending the rest of his spring break hanging out at home riding horses.
This is Bushaw's third year to ride Peptotoodie and his fourth year to cut seriously. As time goes by, he likes cutting more and more – something he attributes to this mare.
"She's a very cool horse. I think she was really, really good in the finals of the 35 [Non-Pro], probably the best she was the entire time at the Eastern Nationals. She tried really hard," Bushaw said.
Peptotoodie (Peptotime x Too Smart Toodie x Smart Mate), a career earner of $157,120, competed at the small futurities in 2012 where she made $10,217 in Open competition with James Payne. In 2016 she earned her biggest check, worth $16,150, as the Ike Derby & Classic 5/6-Year-Old Open Reserve Champion, also with Payne. Her highest-paying win with Bushaw, worth $2,237, came about in 2016 at The Non Pro Plus the Open in the $15,000 Amateur when they tied for third.
Bushaw thanked his parents, Chad and Amy, for their support as well as trainer Dvorack.
"He helps me all the time and is one of my favorite helpers," Bushaw said. "He's just always there to help me watch cows and turn back."
This is Bushaw's second NCHA Eastern Nationals title; he won the 2017 Junior Youth on Peptotoodie. In 2018, he hopes to continue to compete in aged events and make the Junior Youth Top 15.
Quarter Horse News
by Bridget Kirkwood
View article online