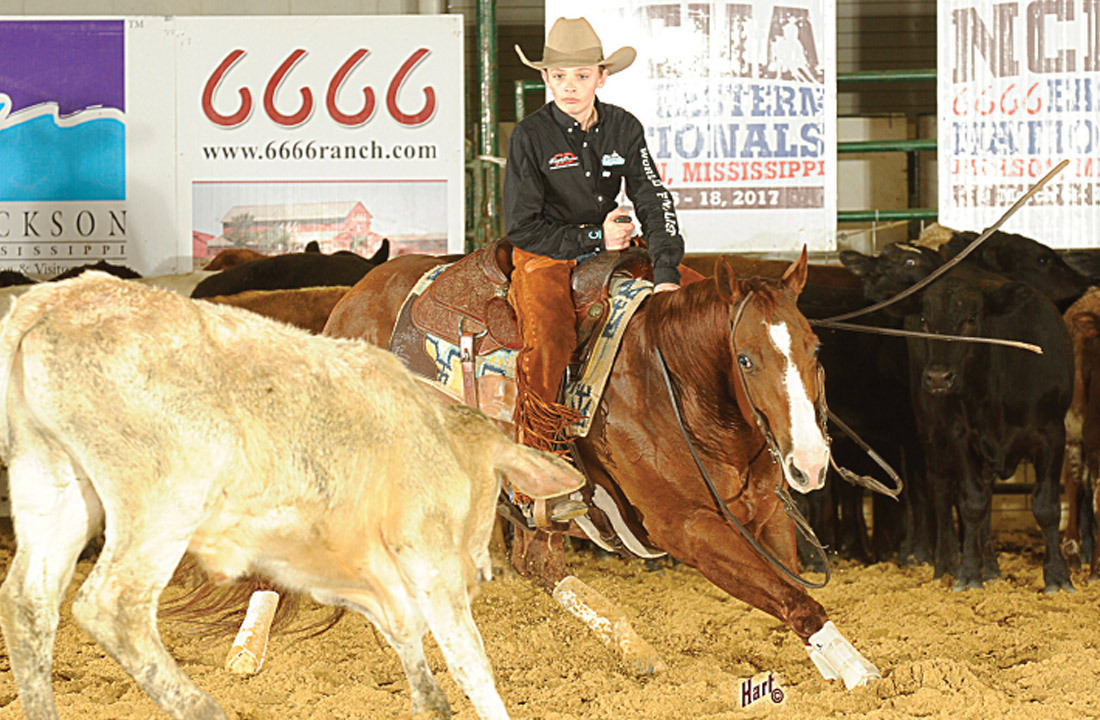 Peptotoodie & Charles Russell Take Junior Youth Championship at Eastern Nationals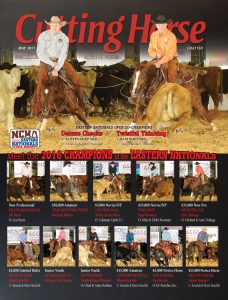 Charles Russell Bushaw had never been to a National show before he went to Jackson, Mississippi this spring, but that didn't stop the 13-year-old from marking a 222 on Peptotoodie to win the Junior Youth.
"It was a lot bigger than I thought it was going to be, there were a lot of people there," Bushaw said. "It's probably one of the biggest cuttings that I've won.  I knew I had a chance to win it, but I wasn't 100% sure that I would win it.  It was an awesome way to start spring break."
Peptotoodie (Peptotime x Too Smart Toodie), an 8-year-old mare, was purchased by Charles Russell's parents, Chad and Amie Bushaw, last March from Bill Masterson.
"I love this horse. She's a really good horse. She stops really, really hard and beautifully. She's one of the hardest stopping horses that I've ever rode," Charles Russell said.
"She's really nice to be around, she's very loyal and she always tries her hardest for you. I ride her at home a lot. I practice on her and go to weekend shows most weekends and show her. Some days when we give her a day off, I ride her out in the pasture just to give her a day out."
Charles Russell became interested in cutting by watching Chad, an NCHA Hall of Fame Non-Pro, train and show his own horses.
"I always worked horses with him, but these past two years is the first time that I've hauled hard and tried to do good," said Charles Russell who last December became the youngest person to make the semi-finals of the NCHA Futurity Non-Pro. "I used to get nervous, but now it's fun and I don't get nervous any more."
Charles Russell was helped at the Eastern Nationals by his dad, Mary Ann Rapp, Cullen Chartier and Michael
Cooper.
"They were telling me what cow to cut and which cow was fresh. If my horse was getting too far back in the herd, they'd say, 'up, up, up.'" Charles Russell recalled of his finals run.
While making his second cut in the finals, Charles Russell had to make a hard decision—he had to go against what his help was telling him to do, and switch cows.
"We put him on what we thought was the best cow in there but it would never get to a good spot," Chad said. "He ended up going off that cow without us even telling him to. It was textbook perfect how he did it, so I was real proud to see that he could make a good decision and it made a big difference to his run."
For Charles Russell, the decision to cut a cow that wasn't a pick, was an easy one.
"I wanted to stay on that one cow, but it wasn't acting very good and it took off right past me," Charles Russell said. "I knew if I'd chased after it that it would have really messed my run up, so before I let the judge know that I was committed to that cow, I picked another one that looked good and was showing up. I was pretty confident that I was doing the right thing."