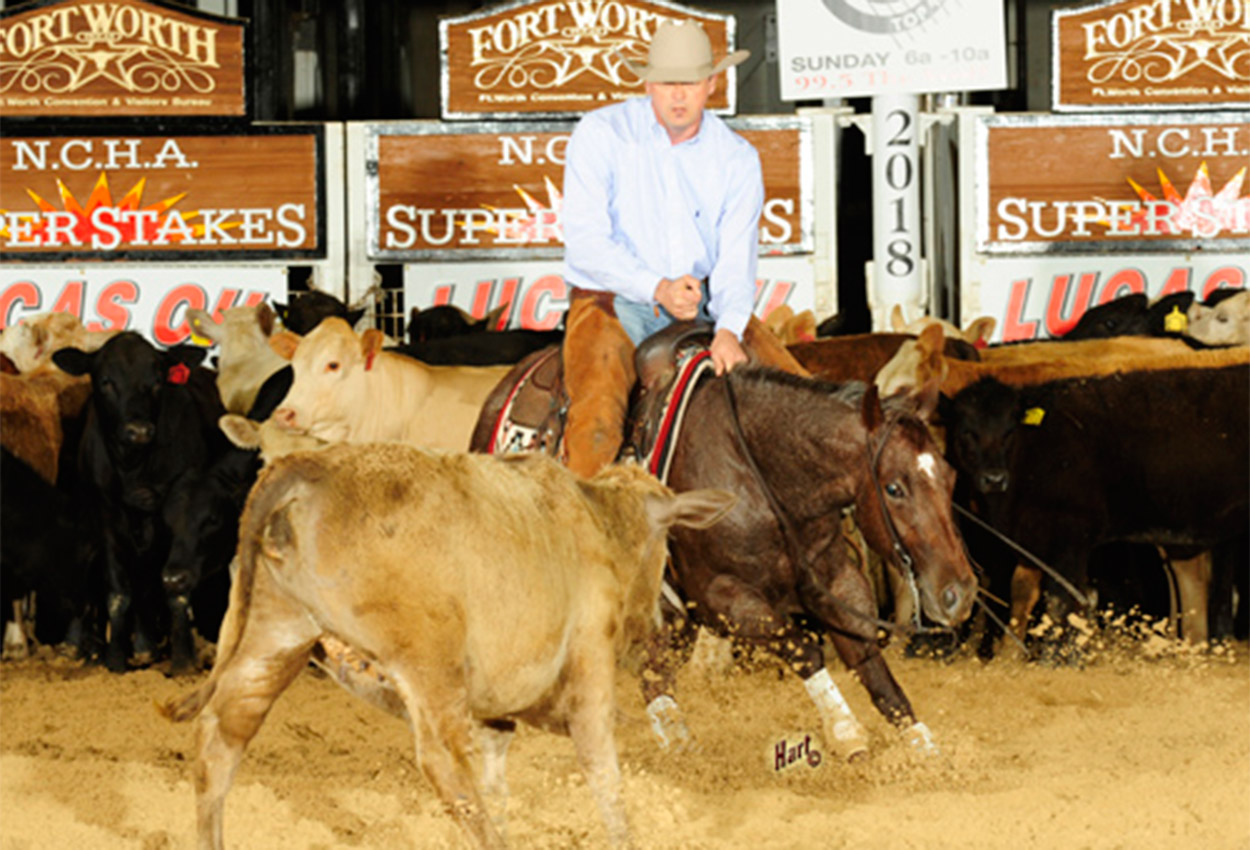 Family & Cutting
Posted on
October 15, 2019
The world according to this non-pro revolves around a fateful trip to the Oxbow Ranch in Oregon as a young boy. It was love at first sight, and he never was the same again.
Somewhere between the readin', the writin' and the 'rithmetic, Chad Bushaw's third-grade class carved out a little time for a field trip to the mini-metropolis of Prairie City, Oregon, a neighboring town to his fam- ily's home in Long Creek. His teacher set up a class visit at the famous Oxbow Ranch for an up-close-and- personal, semi-hands-on experience in farm and ranch life. Unbeknownst to the teacher, who also happened to be his mother, the trip turned out to be a seminal event in the life and formation of young Bushaw.
"I instantly fell in love with the horses," said Bushaw, today a 46-year-old who lives on his Crown Ranch in Weatherford, Texas. There, he and wife Amie raise three boys, amongst other things.
The ranching operation consists of about 400 mother cows and horses, including about 20 foals a year, on around 1,500 acres. They also put up their own hay. The name "Crown Ranch" is a family handle so to speak — the same as his great-grandfather's ranch in North Dakota, where in 1909 he registered the brand Bushaw uses today.
Bushaw's parents nurtured his interest in cutting horses from an early age. As a young- ster, he helped neighbors brand and move cattle on weekends. His cutting education was as elementary as it could get. He said he used pictures and even a Western Horseman book about cutting to try to figure out where to start.
As he grew a little older, he learned the craft hands-on from Stewart Guthery, and later Phil Hanson and Mike Haack.
Adult life began to manifest in 1991 when Bushaw moved to Fort Worth, Texas, to attend Texas Christian University (TCU). Haack introduced him to Paul and Winston Hansma, the "first two people I met in Texas." The trainers had gone to work at the Bar H Ranche.
Bushaw learned more from the Hansmas than the college campus.
"Paul and Winston left the biggest imprint of all," he said. "They not only helped polish my horsemanship, but more importantly they helped me soak up the work ethic, character and integrity they are so well known for both then and now.
"It was during this time that I met my friend Matt Gaines, as well, who has been in my corner for every dollar I've ever won in the Will Rogers Coliseum to this day."
Over the course of three decades, Bushaw has won more than $3.6 million.
"Looking back," Bushaw said, "I am forever grateful that my parents made it possible for me to be introduced to cutting horses, and then supported me on teacher's wages in trying to become competitive and opening the doors they did for me."
As those doors opened, Bushaw made contacts that continued to shape his life. His wife comes from a cutting family, though it was a "non-horse" friend and work colleague who suggested he call her. For 25 years, he has made wealth management his occupa- tion, a successful profession in large part because of … cutting.
"I was very fortunate that some of the folks I first met through the sport of cutting were among the first people to give me a chance to help them manage their wealth," Bushaw said. "The best part of my career has been getting to work with some brilliant people who all have some amazing stories of how they created their wealth.
"Some of the connections I've made through the cutting horse world over the years have led to some amazing insights from brilliant Wall Street-connected folks who share the same love for cutting horses as I do, which has given me what I consider to be a leg up over most suit-and-tie-wearing finan- cial advisors."
Bushaw has even coaxed some of those clients, many of whom have been with him all of his career, into cutting. Many have sought his advice as they've built their own cutting programs and designed their ranches.
"A good many have had me find and nego- tiate a deal to hire their trainers, and some of those programs have now been on top of the sport for years," Bushaw said.
He has also turned his hobby as a "bit of a land junkie" into a business. He found enjoyment — that's probably not strong enough a word — in taking rough land and turning it "into something beautiful." In fact, it went from a hobby and investment opportunity to a 10-employee excavation company. They do everything from clear land to build lakes and pave roads to, of course, build cutting facilities.
His company has also begun converting some of those Texas properties into residential and commercial developments. Street names in those developments in Aledo and Weatherford include Bittersweet Trail and Milhouse Way, chosen in honor of two of his cutting horses.
Bushaw does much of the training on his own horses, but also has trainer Austin Keys on the Crown Ranch property.
"There is nothing like teaching a young horse to become a seasoned cutting horse," Bushaw said. "It is just an indescribable feel- ing of accomplishment. While I do my own training, I lean on my trainer friends a ton, more than they realize probably."
There are two things he likes to talk about most when it comes to his horse operation. The first is his team.
Kaylin Wright "is unlike anyone I've ever had when it comes to keeping my horses healthy" and preparing them for a show, he said. In addition, she also just about "single-handedly" managed the Crown Ranch breeding and foaling operation this year. "I just can't brag on her enough."
"We have a good team, from my farrier David Edens, to my leg vet Jeff Foland, to my breeding vet Gabe Young, and my neighbor vet Jason Walter, who does a little bit of everything for us," he continued. The other thing he's most proud of is also what he considers the most overlooked part of his operation. Horses who went through his program and sold have gone on to per- form at the highest level.
"These past two years, on horses I trained, I was fortunate enough to have won the NCHA [National Cutting Horse Association] Futurity [Non-Pro] and my son won his first Triple Crown title in the Limited Non-Pro. And, we also won the NCHA Super Stakes two years running.
"What I am prouder of, though, is that two horses that were trained here were both in the NCHA Open World Finals last year — Bet On A Cat and Clays Little Kit Cat. So, I have worked hard over the years to build a complete program, where horses we raise and train have success at all levels, not just for me and my boys."
Even in light of such success, Bushaw admitted he is actually planning to downsize the Crown Ranch horse operation.
Over "my next 46 years" he said he plans to show at the NCHA Futurity each year and then go to a few shows with his sons. His two oldest boys — Charles Russell, 15, and Will, 13 — have made the finals of all the Triple Crown events in the Amateur and they were National Youth Cutting Horse Association Rookies of the Year consecutively.
The youngest, Wesley, is just starting. Bushaw joked that the 8-year-old doesn't plan to get serious about cutting until his NFL and NBA careers flame out.
"I have had more fun and satisfaction in watching them compete and learn the business as I ever had cutting myself," Bushaw said. "Our aged event cuttings have really changed from how they were 20 years ago when I got the bug, so anymore, I'd just as soon be at a youth cutting with my boys."
During the fall, some of Bushaw's available leisure time is spent in Fort Worth watching the alma mater play football. He is a self-described TCU basketball fan, too. Will and Wesley play both sports in youth leagues.
When he's not horseback or in the office, Bushaw can probably be found on his boat at an area lake. The family loves to travel, too.
This year, the Bushaws went south, spending a few weeks on a catamaran sail- ing the British Virgin Islands. During the summer, they went north to Montana for some fly fishing.
"We really enjoyed every second of that and are anxious to do something similar again this coming year," Bushaw said.
Amie's family is always nearby, too. Her parents, Russ and Debbie de Cordova, as well as younger brothers Cody and Ty, are a part of the cutting operation and a critical component of the ranch, Bushaw said. Those trusted family members help source and sell the cattle, and "keep us plenty of fresh cows for me and the boys to work."
That union between he and Amie — they were married in 2002 — has been "better than any dream I had as a boy growing up in Oregon."
All a dream come true because of cutting horses.
Quarter Horse News
by John Henry
October 15, 2019